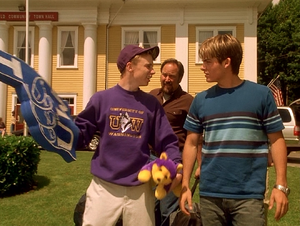 The University of Washington, UW for short, is a public research university in Seattle, Washington. Josh Framm and Tom Stewart were accepted.
History
Air Bud: Seventh Inning Fetch
The boys left Fernfield on a bus to go to UW. Tom was excited to go, and wore a sweater, and held a rubber foam hand and cuddly mascot toy.[1]
Notes/trivia
References
Ad blocker interference detected!
Wikia is a free-to-use site that makes money from advertising. We have a modified experience for viewers using ad blockers

Wikia is not accessible if you've made further modifications. Remove the custom ad blocker rule(s) and the page will load as expected.